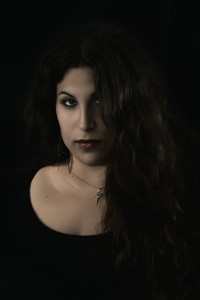 Christine was born in Athens, in 1991.She begins her musical training at the age of 10, studying classical piano and theory. As a teenager, she experiments with different kinds of music like classical, rock, metal, jazz fusion, electronic, industrial.
She begins playing guitar, jazz piano and expands her musical knowledge in music theory (harmony, counterpoint). Taking part in various rock, metal, jazz, pop and funk bands, she also begins to experiment with singing. She has been a member of "Floating Worlds", since 2009.
Her infuences include: Oscar Peterson, Chick Corea, Hiromi, Dream Theater, Planet X, Liquid Tension Experiment, Tool , Porcupine Tree, Anathema etc.